Zeeburgereiland is new. Nice, clean and safe. A good place to live. At the same time, it is important to live there together, to share activities and to collectively shape the neighbourhood's distinct character. Artworks in public space can add to a pleasant atmosphere in a neighbourhood. The question, however, is whether they also stimulate common use of public space.
What is the role of art and design in generating new forms of commoning in a newly developed neighbourhood like Zeeburgereiland? This question was at the core of a research project carried out by the Gerrit Rietveld Academie in collaboration with the University of Amsterdam and Waag. The incentive for this research, titled Contemporary Commoning, came from BPD, the project developer that realised the building complex Woon&. BPD's aim is to make more communal spaces available in the buildings they develop. In our research, however, we focussed on the largest communal space on the island, the public domain. In this publication, we present two art projects that were part of our research: Black Water by RAAAF, an installation in one of the former sewage treatment silos, and Wielemaatjes by Jeffrey Bolhuis and Socrates Schouten, which exists of six mobile objects placed in the streets to be used by anyone for any imaginable purpose.
A new neighbourhood feels like a new beginning full of possibility. And indeed, on Zeeburgereiland all kinds of activities are initiated by residents. This makes the island a perfect place for art and design experiments. For our projects, we could count on considerable support from and assistance by residents of among others Nautilus and Akropolis, and the participants of various neighbourhood initiatives. At the same time, a new neighbourhood still under construction is also an ideal research site for scientists. Various universities have studied the area's development over the years. This turns the area into a laboratory and, if you're not careful, its residents into guinea pigs. With this publication, we would like to share some of the research with you, the residents. Not just what we have done, but also the outcome of other projects. And we look ahead, at the art and design plans for the newest part of the island, the Sluisbuurt.
Zeeburgereiland is not yet completed; it's public space is also still in flux. This publication hopes to offer tools for making use of that space, and share it with others.
Download the full pdf here.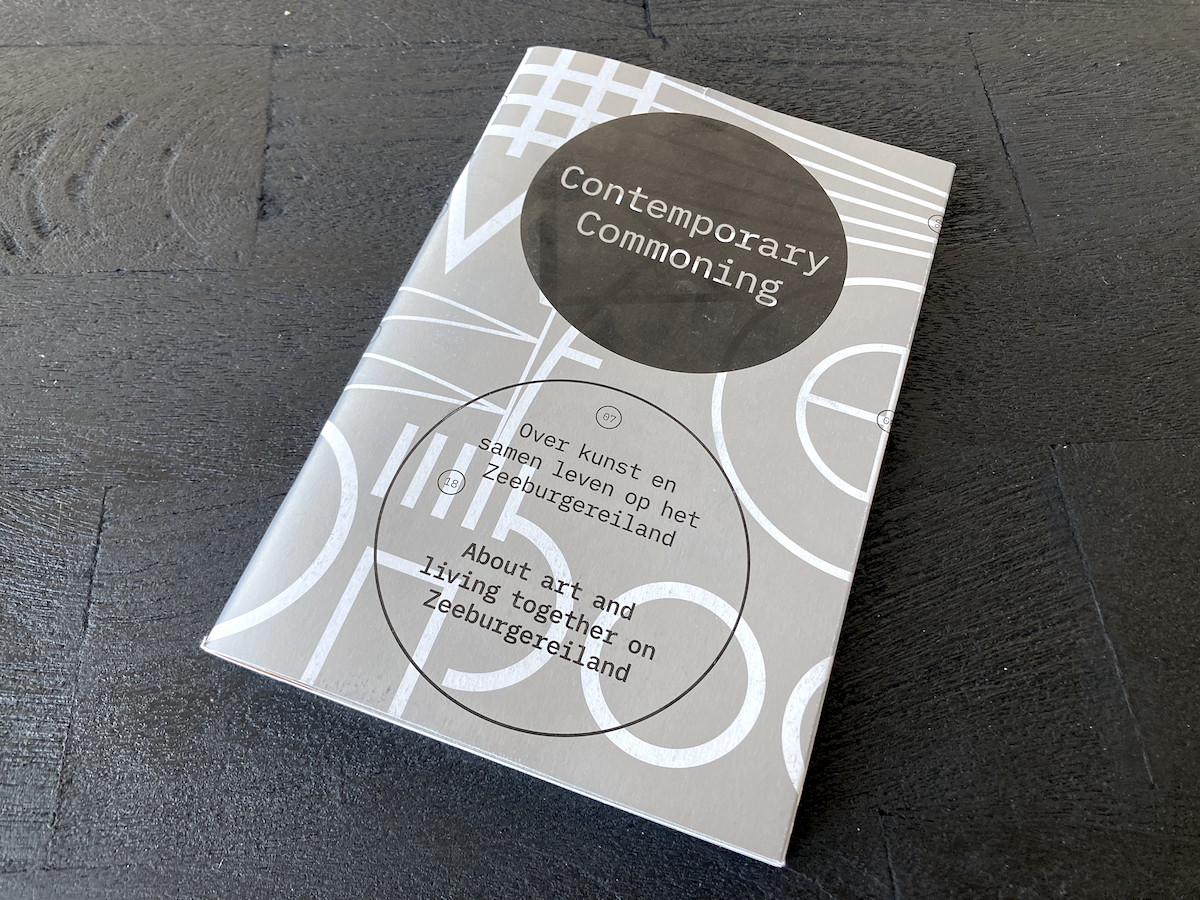 Colofon
Contemporary Commoning: about art and living together on Zeeburgereiland is the final outcome of the Contemporary Commoning research project that took place from 2020 to 2022 on Zeeburgereiland in Amsterdam.
concept & editing: Jeroen Boomgaard and René Boer
graphic design: Richard Niessen
copy editing & translation: Jesse Ahlers
printing: Drukkerij Raddraaier Amsterdam
Contemporary Commoning was a collaboration between the Gerrit Rietveld Academie/Sandberg Instituut, University of Amsterdam, Waag Futurelab, Casco: Working for the Commons and Studio René Boer. The research was supported financially by NWO and BPD/Bouwfonds Gebiedsontwikkeling, and made possible by Nautilus, Waag Futurelab, Casco: Working for the Commons and the municipality of Amsterdam. This publication was realised with additional contributions by the municipality of Amsterdam, Gerrit Rietveld Academie, Sluislab Hogeschool Inholland and the Centre of Expertise for Creative Industries (CoECI).
The research team was led by Jeroen Boomgaard en René Boer. It further included Ronald Rietveld, Erik Rietveld, Daria Khozhai and David Habets (RAAAF), Suzanna Tomor (University of Amsterdam, Centre for Urban Studies) and Claartje Rasterhoff (University of Amsterdam/ Maastricht University), Socrates Schouten (Waag Futurelab), Jeffrey Bolhuis (AP+E), Binna Choi and Aiwen Yin (Casco: Working for the Commons), and Ektor Ntourakos (intern).
The research team would like to thank the following people for their efforts for the project: Anouk Roelofs, Ben Kremer, Cas Bool, Charlotte Roelofs, Christie Bakker, Cindy Wegner, Ciska Vereertbrugghen, Els Hendricks, Emily Huurdeman, Fenny Vlietstra, Gijs Hendrix, Hanne Ixfeld, Henny Hulshoff, Jaap Noordermeer, Jaap Vinken, Jeroen van Dalen, Joyce Drosterij, Joshua Abebrese, Josiah Lindquist, Jurgen Bey, Karel Koch, Katie Clarke, Kees Hudig, Kees Schipper, Liza Prins, Mary Voerman, Mirjam Vogt, Morgane Billuart, Pim Kuyper, Robbie Doorman, Robert Kloosterman, Roos van Os, Rosa Paardenkoper, Ruud Klerks, Seger Terpstra, Serge van Munster, Sharon Oldenkotte-Vrolijk, Silvia Russell, Thea Laffra, Tjerk Bosker and Wiesje Kothuis.